We are a completely volunteer-driven organization raising funds for BC Marine Parks land acquisition and enhancements that are user- and ecologically-friendly.   We have no office or overhead.  We liaise and cooperate with the Province of British Columbia and the BC Parks administration to implement enhancements and acquire land for new parks.
Our Purpose
Our mandate is to help the Province of British Columbia create new marine parks and enhance existing ones. The parks are for everyone, including beachcombers, kayakers on up to larger pleasure boaters.  The British Columbia coast is one of the finest marine recreational areas in the world.
Our funding comes from the members of the Council of B.C. Yacht Clubs, financial support in partnership with other associations, special bequests and from people like you. Private memorials, cash donations or property donations are all welcomed as a wonderful lasting legacy.   CRA approved tax receipts are available for donations over $25.00.
Highlights
Over $2M received in donations, with $800K from boaters, and $1.2M from bequests and dedications
We have donated over $2 million to 10 marine park acquisitions
Over 186 galvanized stern tie pins and identifying plates installed since 2015 in 14 Parks to protect sensitive seabed areas and coastal trees and increase boater safety and convenience when anchoring, requiring a $124,373 investment funded cooperatively between the Society and BC Parks
Awarded BC Parks "Community Partner of the Year" in 2014
Nominated for BC Parks "Community Partner of the Year and Volunteer Legacy Award" in 2019
We, as Marine Parks Forever Society and Council of BC Yacht Club members, are tirelessly working on the following projects:
Emphasizing the value of Recreational Boating to the BC economy, to BC Parks and the Provincial Government
Assisting BC Parks in choosing and protecting a list of potential BC Boat Havens, which are areas of Coastal BC designated by the Council of BC Yacht Clubs and the Marine Parks Forever Society as sites where boats can seek shelter and safe anchorage in hazardous conditions
Raising funds to help add new BC marine parks
Adding new stern ties and mooring buoys thus protecting the environment
Speaking to interested groups and offering an informative Power Point presentation
Our Vision for the Future
Our vision for the future is to continue to acquire land to be designated and protected as marine parks, and to continue to protect the environment by enhancing the accessibility and user friendliness of our marine parks.
Our Past Achievements
In 1989 B.C. Parks approached the Council of BC Yacht Clubs and asked it to assist in protecting recreational boating interests and to raise funds for the purchase of properties to become BC Marine Parks.
In 1990 the B.C. Marine Parks Forever Society was formed and registered as a charity by the Council of BC Yacht Clubs which, as the parent organization, oversees all activities of the Society, appoints its Directors and approves any donations for land acquisitions or improvements recommended by the Societies board.
In 2017, the Society funded the construction and installation of a sign depicting a 1950's pictorial history of Wallace Island / Conover Cove. It is located on the path north of the dock.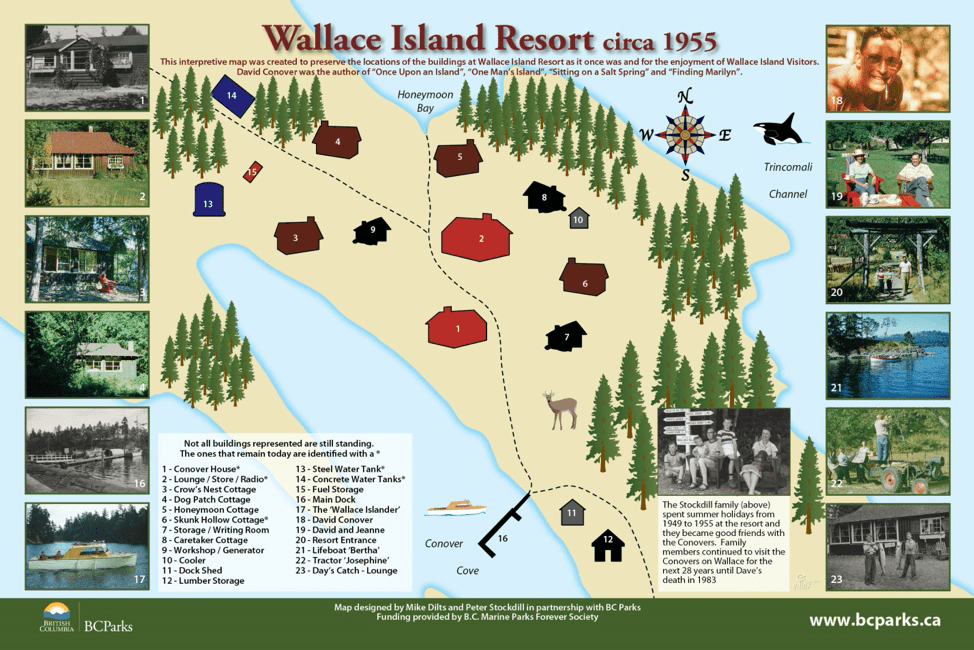 In 2019, in cooperation with Capital City Yacht Club and co-funded with BC Parks, a new Park Host dock was installed in Tod Inlet. Capital City Yacht Club members act as Park Hosts assisting boaters with information about the park and assisting boaters with anchoring and other needs.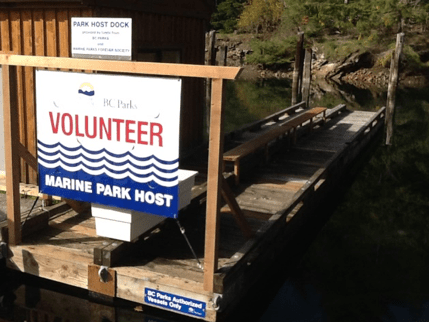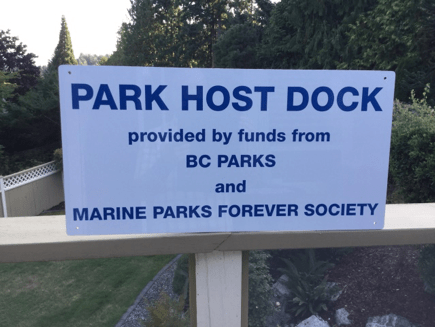 Donations to BC Parks land purchases for marine parks
Year
Park
$Donated
1962
Pirates Cove Marine Park
$13,000.00  **
1991
Musket Island (Hardy Island) Marine Park
$45,000.00
2002
Jedidiah Island Marine Park
$100,000.00
2002
Wakes Cove Marine Park
$100,000.00
2004
Octopus Islands Marine Park
$250,000.00
2007
Allison Harbour Marine Park
$200,000.00
2008
Hardy Island Marine Park
$75,000.00
2009
Squitty Bay Marine Park
$18,000.00
2014
Octopus Islands Marine Park
$433,000.00
2018
Harmony Island Marine Park
$749,310.00
2019
Princess Louisa Marine Park
$50,000.00
2019
Octopus Islands Marine Park
$100,000.00
2020
Ballenas Island
$50,000.00
2015-21
Park Improvements
$134,373.00
Total donated – land purchases
$2,317,683.00
** Collected by the Council of BC Yacht Clubs