About the Marine Parks Forever Society
Who are we?
The Marine Parks Forever Society is an all-volunteer registered non-profit founded by the Council of BC Yacht Clubs in 1990
We are volunteers with a deep passion for boating in our beautiful BC waters in an environmentally responsible manner
What do we do?
We advocate for and financially support the creation, expansion or enhancement of BC Marine Parks
We represent the recreational boaters in British Columbia and assist in protecting their interests
We execute special projects for boaters like the popular "stern-tie program"
What have we done for you so far?
We've contributed more than $2 million to the betterment of over twenty marine parks
We've installed over 186 stern ties to protect sensitive holding grounds and make anchoring safer and easier
Our vision for the future is to continue to acquire land to be designated and protected as marine parks, and to continue to protect the environment by enhancing the accessibility of our marine parks.
Find a Marine Park
Below is a list of all the BC Marine parks that we've contributed to, either by direct monetary contributions for land acquisition or by installing stern ties in the anchorages within the parks. Stern ties provide two main advantages: they allow more boats to occupy a given anchorage safely, and they help reduce damage to the seafloor by the anchor chains scraping over the bottom. This is particularly significant where damage to eel grass and other sensitive marine life is concerned. At BC Marine Parks Forever Society, we will continue to strongly advocate for and financially assist where possible the establishment, expansion, and enhancement to our marine parks. If you can help us in our mission, see below.
How to use the Interactive map:
HOVER over the name of the park to see a radar beacon pinpointing its location on the map
CLICK on the name of the park to be taken to the BC Parks page for details
CLICK on the anchor to be taken to a detailed stern tie map
CLICK on the dollar sign to see the details of the BCMPFS Land Acquisition contribution
 = Stern ties
$ = Donation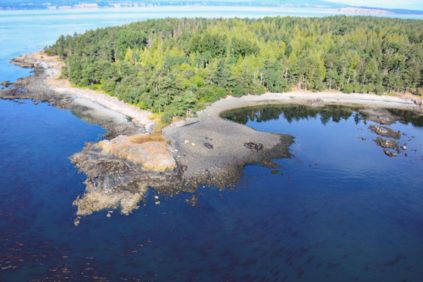 Two new mooring buoys have been installed in the Gulf Islands National Park Reserve in the vicinity of D'Arcy Island which lies between Sidney and Victoria in Haro Strait.
If ever you needed a reason to stern tie instead of anchoring, Larry O'Keefe's article referencing "anchor-dragging carnage when the winds came up" in Prideaux Haven will give you pause for thought.  Over a dozen new stern ties were installed in Prideaux in 2018 – secure to one of them and sleep soundly!
Tell us your story
We'd love you to contribute your photos and a couple of fun paragraphs about your visits in BC's Marine Parks to the blog.
Get Updates
We're always working on new projects to make our marine parks boater-friendly, and it helps us to know where you are, and which yacht club (if any) you belong to so that we can continue to educate even more boaters. Please share the following inforamtion so we can keep you in the loop.
Get on board!
Individuals, Boating Organizations, Government Agencies – we ALL have a role to play in improving our wonderful network of marine parks!
For Individuals
The effectiveness of the society relies on donations from individual boaters who use our marine park system and want to help make it better with new marine parks, enhancements and improvements to existing ones.
For Boating Organizations
Boating organizations can significantly impact the work of the society by collecting individual donations from their members and distributing all information supplied to them on our projects and accomplishments.